What is Agricultural Land?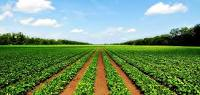 Agricultural land is typically land devoted to agriculture, the systematic and controlled use of other forms of life—particularly the rearing of livestock and production of crops—to produce food for humans. It is generally synonymous with both farmland or cropland, as well as pasture or rangeland.
Advertisement
Agricultural Land For Rent In South Africa
Tiny House Intentional Community
From R 2 000For Rent
We have a smallholding in Karkloof, a lush part of KZN Midlands and adjacent to Mbona Private Reserve, upon which we are establishing an Intentional Community for like-minded people to join us living in self-sustainability.
10 stands are being made available, of around 400m2 each, for the introduction of removable tiny houses (Cabin/ yurt/ teepee/ geodesic dome/ bus/ yacht/ container/ etc).
We also have three larger pieces of grazing pasture land ((estimated between 1 and 6 Hectares) for those needing a bit more land, for larger-scale animal husbandry (horses/ goats/ sheep, etc), or vegetable growing. Short/ medium or long-term leases will be considered for tenancy.
The water is superb, the setting serene, and the soil rich. We already have a timber plantation, and milling station, and have established some outdoor and indoor gardens, with donkeys, sheep, pigs, and fowls in the family, creating the farmyard operation and atmosphere.
Interested parties are requested to please make arrangements to come and meet and view, rather than attempt to discuss detail over the internet/ phone.
Secure Plot to rent for Business use Only
From R 9 000For Rent
Secure Plot to rent for Business use Only. More details:
Category – Property
Sub Category – Farms
Intention – Contact Me
Land Area – 1
Region – Gauteng
City – Krugersdorp
Can you build a house on agricultural land in South Africa?
The number of and function of the house you want to build means the difference between getting your building approved or not– if you can prove that the building is for farming purposes (like living on-site to tend to crops or livestock), you'll likely get permission to build your house on agricultural land.
Advertisement