Stellenbosch University Industrial Engineering
Why study industrial engineering?
Advertisement
 a greater demand for productivity, competitiveness and effectiveness, than ever before. Modern businesses cannot compete, without constantly improving their processes and systems and contemporary Industrial Engineering provides solutions for these modern challenges. The optimum outcome can only be achieved by firstly analysing, and then designing, implementing and managing solutions,
As part of each student's undergraduate education, the industrial engineering programme provides good technical grounding in mechanical, electrical, civil and chemical engineering, as well as a fundamental knowledge of manufacturing science and management science. This holistic approach ensures that every graduate is familiar with all the skills and know-how necessary in the business world.
The industrial engineering programme aims at improving a student's ability to communicate effectively, irrespective of the particular business sector. Skills in advanced group work techniques, as well as knowledge of organizational behaviour and labour relations, encourages each student to take charge in situations where individual group member dynamics threaten the goal of the group. Clear communication is encouraged as a key concept for conveying information and prospective industrial engineers are taught to write technical reports, supported by financial projections, and eventually, how to present and market this information to top management.
Undergraduate industrial engineers are educated to apply domain specific techniques, to make sense of data and to base decisions on statistical analysis and mathematical models. These decisions are often made with a degree of uncertainty, making it necessary to employ sensitivity analysis and simulation models in conjunction with statistical analysis. There is often more than one solution to a problem, and an Industrial Engineer should be equipped with the skills to identify all the solutions, both short and long term. Industrial engineers also deal with people matters across all levels of society and the program suits both male and female students.
In the first two years of study the student takes modules mainly in Engineering Mathematics, Applied Mathematics, Chemistry, Electro-Techniques and Engineering Drawings. Specialised industrial engineering fields include modules from Production Management, Quality Assurance and Management, Operations Research, Information Systems, Engineering Economy and Manufacturing. Students also follow modules in complementary fields like Project Management, Philosophy and Ethics and Environmental Engineering. All students follow a common first year programme and it is possible to change the main study programme if specified conditions are met.
Contact Info
Information
Phone: +27 (21) 808 4234
Fax: +27 (21) 808 4245
E-mail: ksmith@sun.ac.za


Advertisement
Postal Address
Privaat Sak/Private Bag X1
Matieland
Stellenbosch
7602
South Africa


Physical Address
4th Floor
Mechanical and Industrial Building
Joubert Street
Stellenbosch
South Africa


Printable map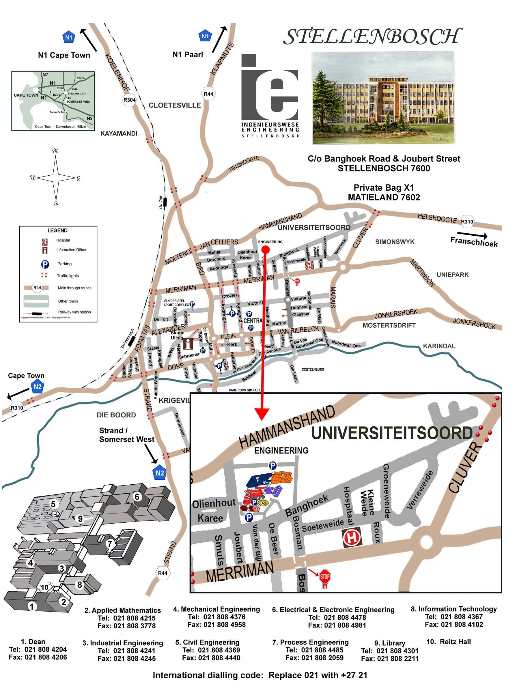 Advertisement